We provide fix bladed and variable pitch angle bladed versions of air filled designed axial flow fans. These Impellers are maufacturerd using high quality cast alloy aluminium type and 4, 6, 7, 8 & 11 blades as per the specific design. Axial flow fan can also be used reversible tunnel ventilation fan by using 2 stage construction. By desiging the casing of the Axial fan accordinglly, these can be used as wall mounting type, tube axial flow type and axial bifurcated type. The sweep size of fan available, varies from 300 mm – 2000 mm ith the capacity ranging up up to 225000 CMH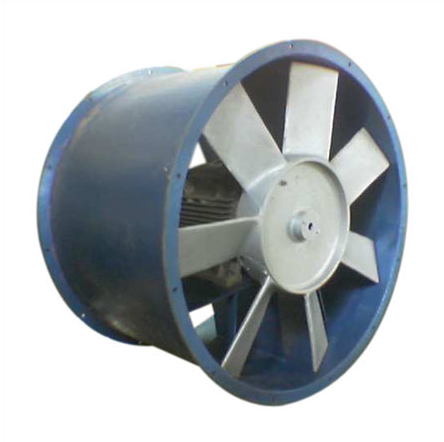 GTA Arrangement-X
This arrangement is suitable for mounting on roofs or inducts. The casing is an all welded sheet steel construction with flat iron flanges at the inlet and outlet. This arrangement incorporated with a weather cowl, make an ideal roof extractor.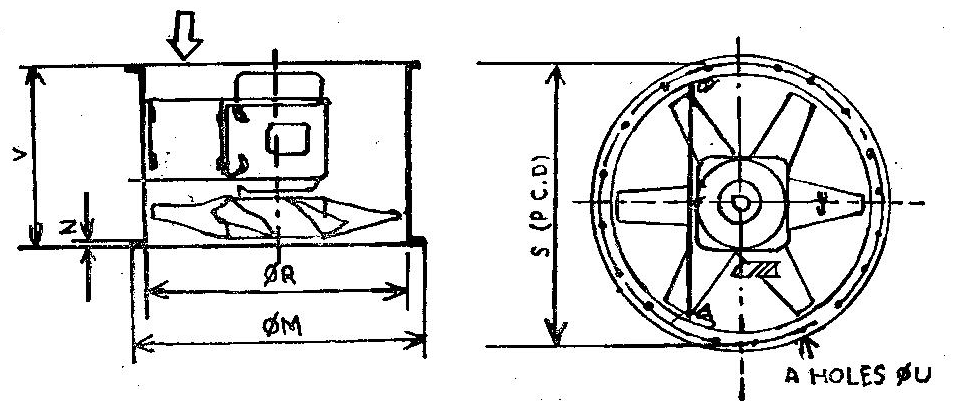 GTA Arrangement-Y
In this arrangement the fan shaft and its bearings are mounted in a bearing housing fastened by three support arms to the surroundings casing. The bearings can be lubricated for a nipple outside the fan casing.The motor is place in a housing outside the casing and from there the impeller is driven by means of V-Belts. These belts move inside one of the support arms and is thus protected from contact with air or gas in the duct.

Dimension Table for GTA – Arrangement X and Y
BA
This arrangement is used exclusively for exhaust of fumes where the motor is kept away from the air stream and at the same time the impeller is directly mounted on the shaft of the electric motor though an extended shaft.
The design incorporated an outer tubular casing with an inner shell in which the motor is kept and the contaminated air passes through the annular space between the inner and outer shell. The motor along with the impeller can be removed from the side.
This arrangement is more economic and effective for handling fumes as the same does not require this shaft/ Bearing/ Drive set assembly.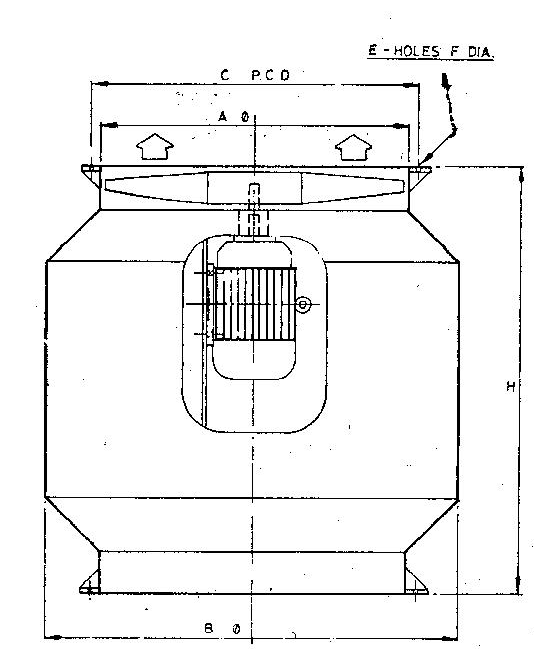 Tunnel Ventilations Fans
We are supplying high pressure two stage Tunnel Ventilation Fans. The tunnel ventilation fans consists of axial flow impellers and can deliver large air quantities and high pressures. The tunnel ventilation systems consists of either a single impeller or two impellers having a varied blade width. These fans are sutiable for reversible rotation which makes them ideal for ventilating the tunnels and mines.